Glueless Breathable Cap Wig - A Summer Essential
When you want to wear a wig in the summer heat, try a glueless breathable cap wig. A breathable cap wig is a must-have for summer.
You can keep your scalp cool and breathable, as well as have a full head of gorgeous hair. This blog will talk about everything you want to know about Glueless Breathable cap wig.
Features of Breathable Cap wig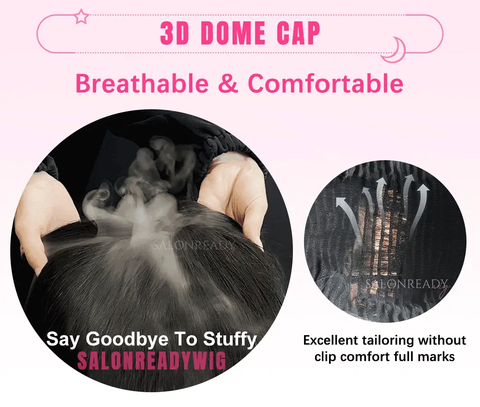 Compared with the normal breathable cap, SalonReadyWig pre-cut lace breathable cap wig use a mesh dome cap, avoid wearing a cap before wearing the wig. You can wear the pre-cut breathable wig cap wig on your head, breathable, cool and comfortable.
1. Breathability
When it comes to breathability, Wear Go Breathable Cap wig apply thin lace front and mesh dome cap, very breathable and allow the air wind blowing through the mesh cap to the scalp, keep cool in summer.
2. Air Circulates
The mesh dome cap of glueless wear go breathable wig cap is made of lightweight and breathable material, allow air circulates freely, avoid airtight and discomfort.
3. Promotes Hair Growth
The high breathability and air circulates of wear go breathable cap wig allows your hair to breath under the wig, promotes hair growth. Compared to normal ventilated wig, if you wear a ventilated cap wig directly, it will cause affriction, itching or discomfort to your own hair, do damage to your hair, affecting natural hair growth.
4. Cooler In Summer
If you wear a ventilated wig, you will need to wear a wig cap and the wig cap is more easy to be moved and broken. Our thin hd lace front and mesh dome cap can be worn directly, no friction to your own hair, more cooler in summer, and more durable, more style versability.
5. Easy to Take Off
Choosing a pre cut lace glueless wig is more easy to take off, whenever you feel hot or want to take off your wig, it is super easy to remove it. Since you found glueless wig, you are never going back.
Why Choose SalonReadyWig Breathable Wear Go Wig?
-Very breathable cap
SalonReadyWig Breathable Cap Wear Go Wig wear mesh dome cap that is super breathable and lightweight. Air can go through the wig cap and touch your scalp.
-Invisible HD Lace
SalonReadyWig Breathable Cap Wig put pre-cut invisible hd lace, melt with your skin color, match perfectly. Our Hd lace has no lift, can be worn against the skin, making your hair look amazing.
-Anti-slip Elastic Band
3D mesh dome cap designed for optimal performance. It mimics the architecture of the human head, and can be configured in a variety of head styles. Combined with the wide elastic band, you can adjust the strap at your convenience, adding security.
-Clean bleached knots
SalonReadyWig Breathable Cap Wig is a knot that is pre-cleaned by our professional stylists, using a special breathing technology, providing natural and clean knots, without worrying about wig damage.
-Pre-plucked Hairline
When we say pre-plucked wig, we mean it. Our pre-plucked machine is the most advanced technology, which has been tested many times by our internatioanl professional hair stylists, providing natural pre-plucked lace wigs as our own natural hair.
Normal Breathable Cap Wig Vs SalonReadyWig Breathable Cap Wig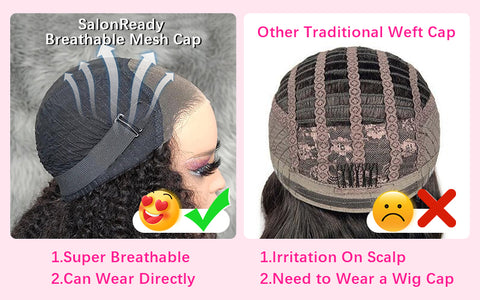 As we mentioned above, the SalonReadyWig breathable mesh dome cap wig is ultra-thin and highly breathable, you don't need to wear the cap before wearing it. On the contrary, normal weft cap wig will need to wear a wig cap before wearing, otherwise the hair weft will friction your own hair and scalp. So SalonReadyWig breathable mesh dome cap wig is breathable to wear.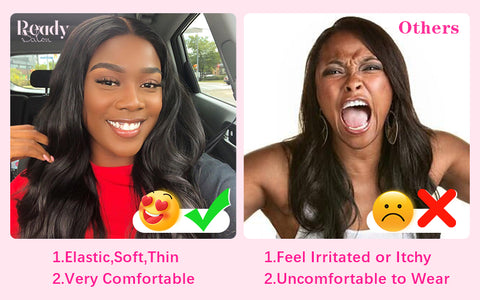 SalonReadyWig Breathable Wig Cap is light, stretchy and flexible, fits your head well, so it's easy to wear. Normal weft cap wig will make hair weft touch your hair and scalp directly, causing friction, itching and irritation on your scalp, making it uncomfortable to wear.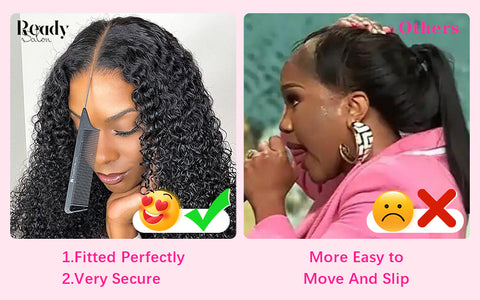 Breathable mesh dome cap wig fits different head shape perfectly and is not uncomfortable, suitable and safe. And the normal weft will go and slide easily.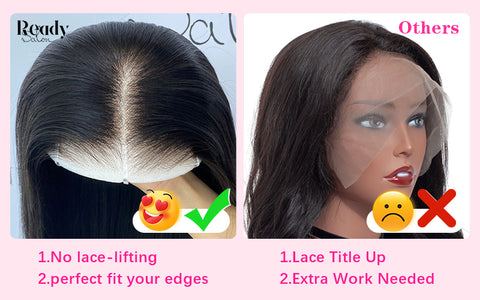 No lace lifting is the main effect of the SalonReadyWig breathable cap wig. The front cut in front of the hairline is perfectly matched to your sides, 100% true Glueless for customers. Other weft cap wig does not fit your head and the pre-cut lace can not be so clean and the lace will title up, you will need to do extra work to make it work.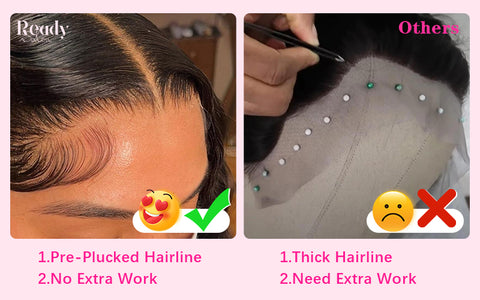 SalonReadyWig Breathable Cap Wig are real pre-plucked by our international hairstylists, offering natural hairline just like your own hair. Other Breathable Cap Wig has thick hairline, and will need extra work to make it look natural.
In conclusion
The summer is hot, cap ventilation wig is very important. When choosing a suitable breathable cap wig, I recommend our breathable 3D mesh dome cap wig. Compared to the normal weft cap wig, our mesh dome cap wig is more breathable and comfortable to wear, more secure, fitted and looks natural.
Keep up with us on socials: