How To Install Glueless Wigs Like A Pro
Glueless wigs are common as a convenient alternative to traditional lace wigs. Attaching and removing a traditional lace wig with glue or adhesive  can be time-consuming and uncomfortable, and even damage the hair and scalp. However, glueless wigs do not require glue or adhesive to secure their place on the head. Some people are still confused about how to properly wear a glueless wig. Don't worry, read this article and find out the best way to install glueless wigs.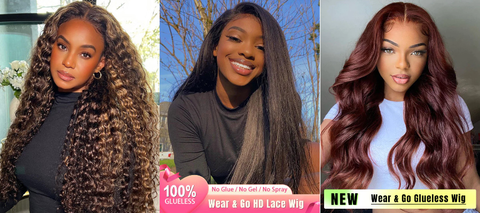 What is a glueless wig
A glueless wig is called a wig that does not use glue or adhesive to firmly attach the wig to the scalp. Instead, it has adjustable straps that can fix the wig on the head and prevent it from falling. This makes it a convenient and comfortable option for women with sensitive skin who do not want to use glue or tape. These features help keep the wig securely in place without messy or potentially harmful chemicals.
Glueless wigs come in different styles, lengths and textures. They can be easily installed, moved and removed. Suitable for women who like to change their hairstyles often.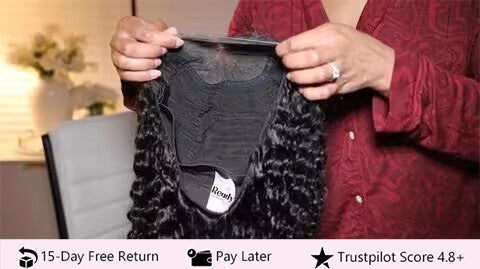 Can you use glue on glueless wigs?
Glue or adhesive is not recommended for a glueless wig. Usually, it can be fixed securely with elastic straps, you don't need to worry about the glueless wigs slipping or falling off. You can use the straps inside to tightly adjust to fit the size and shape of your head. However, if you wish, it can be fixed with glue. But remove the glue from the clean lace after use, the glue residue will damage the selected HD Swiss lace. Regular maintenance such as washing and grooming is also important to keep your glueless wig looking its best.
Glueless wig VS traditional lace wig
Compared to traditional lace wigs that require glue or adhesive, glueless wigs are generally easier to put on and take off. They are also more comfortable to use because they do not require glue, tape or adhesives. In addition, glueless wigs can be more versatile in terms of styling, as they can be easily put on and taken off and do not require a long process of applying and removing glue.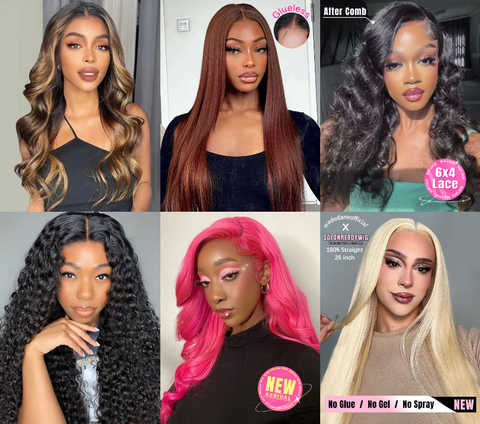 How To Install Glueless Wigs
Glueless wigs are also known as Wear&Go wigs because installation and removal are very simple. You only need a few seconds to apply it, suitable for all women. Plus, it allows you to take it off every night to give both your scalp and wigs a rest. Here are the steps to install glueless wigs.
Step 1: Prepare your natural hair
Wear your natural hair down or wear a wig cap to keep your hair as flat as possible. You can braid your hair into spikes or tie it in a neat ponytail. Comb the wig gently and remove the hair smoothly.
Step 2: Clean the hairline
Before applying the glueless wig, you need to make sure your hairline is cleaned. Cosmetic residues, such as foundation and sunscreen, accumulate and damage the delicate lace. You can use a cotton pad soaked in alcohol to clean the remaining makeup.
Step 3: Place the wig on your head
Then place the glueless wig on your head, making sure it is centered and aligned with your natural hairline. If you are a beginner wig maker, it is effective to use a white eyeliner pen to mark the place where the lace is lying.
Step 4: Attach your wig
Loosen or tighten your wig by adjusting the elastic straps and securing it firmly on your head. The straps should be located behind the wig and tightened until the wig feels comfortable and secure. You can pin it in place if you want, but it's not always necessary with glueless wigs.
Step 5: Style your wig as desired
Once the wig is in place and looking as natural as possible, you can make final designs. Don't forget to use heat protectant products if you need heat styling tools. You can also use a small brush and some styling products to create baby hairs that will give you a more natural look.
Why choose a SalonReadyWig Glueless wig
SalonReadyWig glueless wigs are all high quality at an affordable price. All wigs are made from untreated virgin hair. This means you have more options than synthetic hair. Hair wigs can be styled with heat tools that allow you to design the curls you want with a curling iron. In addition, we offer cheaper wigs than other manufacturers with better quality. Buy SalonReadyWig online now, buy it pay later.
One of the main advantages of a glueless wig is that it is easier to put on and take off compared to wigs that require glue or glue. This can save you time and effort, especially if you are in a hurry or have limited mobility. Also, since no glue or glue is needed, glueless wigs can be more comfortable and less damaging to the hair and scalp.
Another advantage of glueless wigs is that they are more versatile in design. Because you can easily take them on and off, you can change your hairstyle or color more often without damaging your natural hair. You can also wear your hair in different styles, such as ponytails or updos, without worrying about the wig shifting or falling out.
In Conclusion
A glueless wig is a great option for those who want the convenience of a wig without the hassle and potential damage of using glue or adhesive. Available in a variety of styles and customization options, glueless wigs are a versatile and practical choice for anyone looking to change their look.
--
Keep up with us on socials:
Glueless Selling Best List: