Many cancer patients lose their hair due to chemotherapy. Although hair loss is a common side effect of cancer treatment, it is still a major emotional challenge. If you don't want others to see your hair loss, a wig is a practical way to deal with this frustrating reality. When choosing wigs, you may feel dizzy, because there are various wigs on the market, such as lace wigs, v part wigs, salonreadywig's wear & go HD Glueless wigs, etc. In today's article, we will tell you what is the lace front wig and the SalonReadyWig Wear & Go HD Glueless wig, which is more suitable for chemotherapy patients.
Why Do You Lose Hair During Chemotherapy?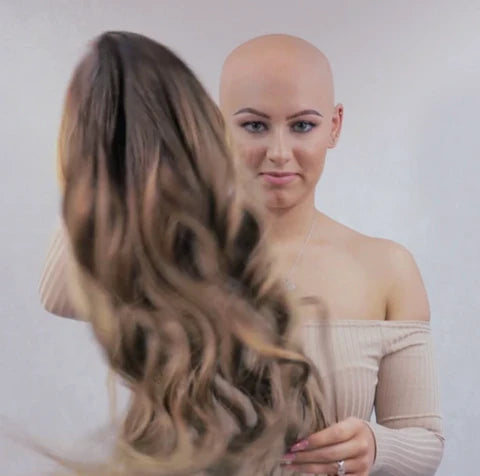 Cancer treatment such as radiotherapy and chemotherapy will attack fast-growing cancer cells, but also affect fast-growing normal cells, such as hair cells, which may lead to hair loss of scalp, eyebrows, eyelashes, etc. Hair loss begins within 1-3 weeks after chemotherapy, and may become obvious after 1-2 months. After chemotherapy, it takes 4-12 months for a complete head of hair to grow back.
Why Are Wigs Important For Chemotherapy Patients?
According to statistics, about 65% of people receiving chemotherapy will experience hair loss caused by chemotherapy. The hair loss caused by chemotherapy will reduce the self-esteem of patients and deprive them of privacy. For example, 47% of cancer women believe that hair loss is the biggest trauma caused by chemotherapy, and 8% of women said they would refuse treatment because of fear of hair loss.
Wearing wigs can help them get rid of other people's strange eyes, maintain self-esteem and enhance self-confidence. After understanding the causes of hair loss caused by chemotherapy, let's see what is the lace front wig and the SalonReadyWig Wear & Go HD Glueless wig and what is the difference between them.
What Are Lace Frontal Wigs?
Lace front wig, also known as front lace wig, is a kind of wig. Its hair is tied into a thin, almost invisible lace material at the front hairline by hand. These wigs will make your hairline look very natural, because it gives the illusion that hair grows from the scalp.
What Are The Merits And Demerits Of Lace Frontal Wigs?
The Merits Of Lace Frontal Wigs
1. Natural Hairline
One of the biggest advantages of front lace wigs is that they provide a more natural hairline appearance. The invisible transparent lace front design integrates with your skin color, creating the illusion of natural growth along the hairline.
2. Protect your natural hair
Wearing a lace wig helps protect natural hair from dirt, dust and smoke. Wearing a wig also means that you will not touch your hair more frequently, which will make it stronger.
3. Affordable prices
Price is also a feature of lace wig, which is worth mentioning. Their price is usually around $100, which is easy for everyone to accept. However, the price may vary depending on the length and density of the front lace wig you need.
The Demerits Of Lace Frontal Wigs
1. Damage to skin and hairline
Because glue is used when installing lace wigs, it will damage and pull our skin and hairline, and cause damage to our skin, especially if we have sensitive skin.
2. Complex installation
The complexity of installation is another disadvantage of the former lace wig. When installing a lace wig, you may need to remove the extra lace yourself, which is very unfriendly to beginners. Next, let's look at what is the Unice air wig and its advantages and disadvantages. 
What Is Wear & Go HD Glueless SalonReady Wig?
Wear & Go Wigs is a new revolution wig wtih pre cut lace, pre plucked natural hairline already, the lace use HD Glueless to help you don't need any glue but can install the lace wig tight and secure.
The Pros Of Wear & Go HD Glueless SalonReady Wig
1. Quick And Easy
To Wear salonreadywig's wear & go hd glueless lace wigs are pre-cut lace, that don't need you to spend time cutting off excess lace, the wigs are very easy to install and wear to go, and take just a few seconds for you to install and remove. What's more, it don't need use the glue, which is especially friendly for beginners and women with sensitive skin.
2. Breathable
salonreadywig's wear & go hd glueless lace wigs are peoduced with soft & thin caps to ensure that the scalp can breathe freely and prevent the growth of bacteria and fungi that damage the health of the scalp, to make sure the scalp is always in a healthy state and allows healthy hair growth.
the 3D dome caps don't have any combs or clips in side, so it can protect your own scalp well and if you are having the hairloss, you don't need to worries at all, protect your own hair well!
3. Fit all head circumferences
Another advantage of salonreadywig's wear & go hd glueless lace wigs is that it fit all head circumferences. Compared to traditional lace wigs, its wide elastic band is well optimized and you can adjust the length of the band to make the wig fit your head circumference tigther and better.
The Cons Of
salonreadywig's wear & go hd glueless lace
 wigs
1. Relatively cheap
Even they are upgraded from other wigs, they are easier and more convenient for customers to wear, and they allow your scalp to breathe freely so you can have a better wearing experience. but because salonreadywig is factory direct, so the price is very cheap with good quality hair.
Lace Frontal Wigs VS 
salonreadywig's wear & go hd glueless lace

 wigs

, Which One Is Better For Chemotherapy Patients?

After learning about front lace wigs and wear & go hd glueless salonreadywig separately, let's look at the following aspects to see which of them is more suitable for chemotherapy patients.

1. Installation

As we can see from the above, the installation of lace front wig is a little complicated, which may require skilled installation technology, while SalonReadyWear & Go HD glueless lace wigs is very easy to install, which only takes a few minutes to install and remove. For patients undergoing chemotherapy, there may not be much time and experience to install the front wig. Therefore, the SalonReady Wear & Go HD glueless place wigs is very suitable for patients undergoing chemotherapy.

2. Scalp and hairline health

Lace front wig needs glue during installation, which will pull and hurt the scalp and hairline. SalonReadyWig wear & go hd hd glueless lace wig lace wig does not need glue, and will not cause damage to scalp and hairline. More importantly, it adopts a hollow mesh cap design, which allows the scalp to breathe freely and keeps the hair healthy all the time. Cancer patients will lose their hair during chemotherapy, and even feel itchy or red scalp. Therefore, SalonReadyWig is more suitable for chemotherapy patients.


In conclusion, the SalonReadyWig are most suitable for patients with chemotherapy. If you want to buy a SalonReadyWig, Feel free to try it. The SalonReadyWig Hair always provides our customers with coupons or promotional activities, so you can buy theSalonReadyWig you want at a lower price. If you are alopecia, work busy, on lazy day, welcome to try the salonreadywig